Your Wedding at Staunton Harold Hall
We make the splendid suite of State Rooms available for weddings up to eight times a year, between April and September.  You could think that these rooms were designed for this purpose, spacious, closely connected, with kitchens and other facilities close by.  We provide tables, chairs and other items, with staff on hand to help you all the way.  Civil ceremonies are conducted in the Saloon, on the first floor.  This is reached by the Grand Staircase and can seat a hundred guests.  There is also a lift.  Receptions are held in the Great Hall, with the wedding breakfast in the Ballroom adjacent.  We also set aside a private room for the bridal party, a games room where children can be entertained and a quiet room (the Library) for the older guests.
Please note that we are fully booked for 2019 and from 2020 will only be holding ten weddings per year
Please contact the office on 01332 864435 or caroline@andrewlargesurveyors.co.uk to make an appointment.
Ten per cent of the fee is due on booking, and the remainder at least eight weeks before the event.  We are not VAT registered and there is no corkage charge.  If you would like a copy of our wedding brochure, require further information or would like to see the venue, please phone Caroline Large on 01332 864435.
Take a Virtual Tour of our Venue
2020 Prices
Reception Only
2021 Prices
Reception Only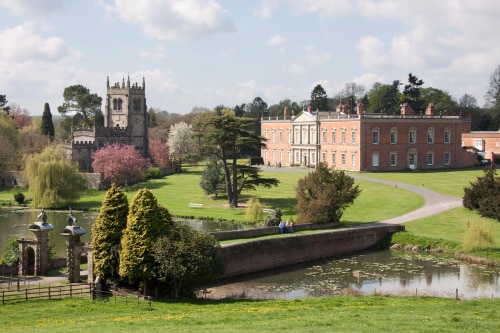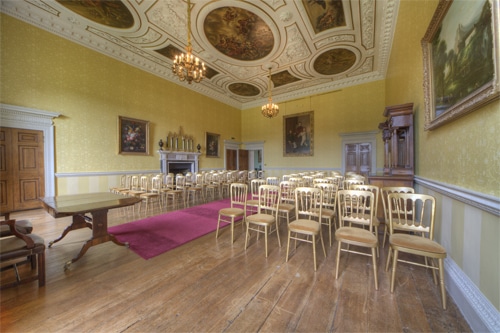 2020 Prices
Civil Ceremony & Reception
2021 Prices
Civil Ceremony & Reception
Just WOW is the only word I think sums up Saturday! Thanks so much to you guys , Ann & the team thank you so much!!!!
Caroline, thank you so much for giving us the wedding of our dreams!
Thankyou for making our wedding such a special day, the venue looked absolutely stunning. Thanks especially to Caroline, Anne and Steve for making the preparation and day run effortlessly. Couldn't recommend the venue enough!
James and I are now back from honeymoon and just wanted to drop you a note to say thank you for your role in our wonderful wedding day, you were so organised and thorough it really did make it very easy. We are so glad we picked Staunton Harold and a lot of our guests said how lovely it was. Please also pass our thanks on to Anne and Steve who were wonderful on the day!
All the best
Our wedding was perfect here, Caroline made the run up to our day so easy. We were so lucky to have Staunton Harold as our venue, it looked amazing on the day and all our guests spoke about was how beautiful the house is, everyone loved it. It was so lovely to be able to set the rooms up how we wanted them  and we were made to feel so welcome in to your amazing house thank you so much x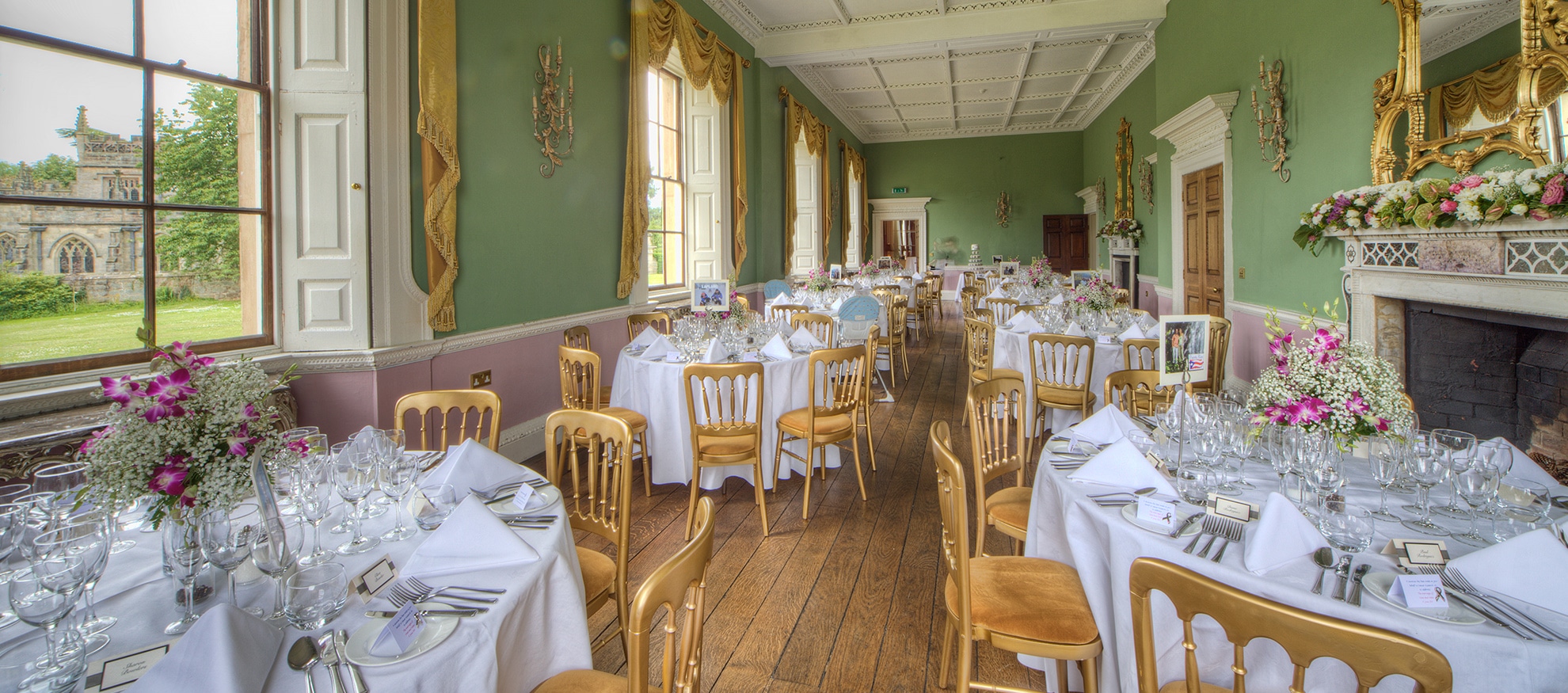 Some Questions Answered about Weddings at Staunton Harold Hall
'Muy casa, su casa' –  my house is your house.  The setting may be splendid, the State Rooms very grand, but we want you to feel relaxed and at home on your wedding day.  To help you to know what we can and cannot offer here at Staunton Harold we have compiled some questions and answers which may assist you in deciding where your wedding will take place.
This is a family home and we only host a dozen weddings each year.  This means that each wedding is a special occasion for all concerned and we can tailor the day to accommodate your requirements.
Who will do the food, and other elements?
We have a list of caterers who have worked here many times and we know to be good.  This gives you a range of prices and the opportunity to consider different menus.  If you have someone you know yourselves we'll be happy to talk to them.
We charge no corkage or commission to any of our suppliers. We can also recommend florists and photographers.
How about music?
We can recommend a disco or a band for the main event, and also smaller ensembles for arriving guests and civil ceremonies.  If you know a competent pianist the piano in the Great Hall is at your service.

What happens outside the house?
Signposts direct guests to our Melbourne Lodge entrance, usually closed to visitors.  The bridal party arrives at the front door, and parking is in the Lion Court car park, immediately behind the hall. Guests usually spill out onto the lawns leading down to the lake and the photographer is much in evidence.
In the evening there is often a hog roast or a mobile pizza oven by the front door and some weddings conclude with a firework display, set up on the far side of the lake.
Cars can be left here overnight and we can supply numbers to pre-order taxis.
Facilities inside the hall
We have friendly staff on hand at all times to look after the wedding party.  Beside the usual rooms available to the guests we have three others.  One is for the bride and attendants, one is a room where children can play under supervision, and the library acts as a quiet 'sitting out' room for the older guests.
Time constraints
We are happy for florists, photographers, etc to see the venue in advance.  Setting up is usually on the Friday, and we like everything cleared up by Sunday lunchtime.  The bar closes by 11.30pm, and Cinderella hour for the bridal party is midnight.
Staunton Harold Hall is a splendid house, and we can put you in touch with professionals who will handle every aspect of the occasion.  However, if you have friends or relatives who can do the flowers, make the cake, take the photographs, play the piano – do please feel free to use them; it helps to make the day  more personal.  For our part we will do all we can to make it one which you will always treasure.
That's about it, but for anything we've forgotten, contact Caroline on 01332 864435 or caroline@andrewlargesurveyors.co.uk.