Welcome to Staunton Harold Hall
The Staunton Harold Estate is a traditional country estate of some 2000 acres centered on the great Georgian mansion, Staunton Harold Hall. Family run and 'hands on' in its management style, the estate has embraced modern uses for its diverse assets.
The hall itself became a family home again in 2003 after fifty years of institutional use. With its eighty three rooms it easily accommodates three generations of our family. The West Wing, facing towards the Ferrers Centre has been converted to high quality managed offices with conference facilities. This is Lion Court, created by son-in-law Tony Cantrill. On the East front we have a series of grand State Rooms, which are used for weddings up to a dozen times each year
In 1974 we began converting the disused Georgian stable block into craft workshops and studios and it is now the largest such complex in England with seventeen different enterprises working in a wide range of disciplines. This is known as the Ferrers Centre for Arts and Crafts.
In another part of the estate we have the Sawmill, which serves the four hundred acres of woodland which we manage. From here we sell firewood through the Ten Mile Timber Company, and planked timber, beams and other bespoke material cut from estate oak and other woods.
The sawmill also provided most of the timber to build the Deerpark Lodge, a holiday cottage in the woods above the Hall. Managing and renting out accommodation and business premises is what we do, and the lodge, which sleeps six, is an exciting addition to our portfolio.
The hamlet of Staunton Harold is also home to Staunton Harold Nurseries, and to the fine seventeenth century family church, now owned by the National Trust. It is also a great walking centre with seven routes radiating from the core, plentiful parking and two good tearooms.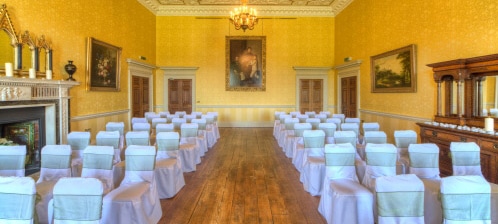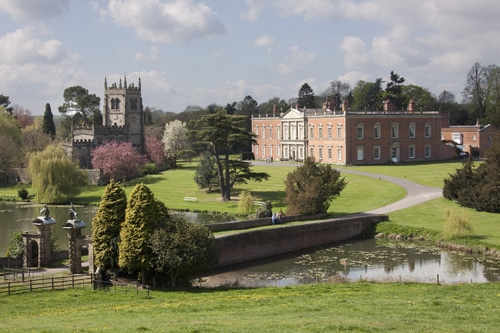 Win some, lose some
Another fine sunny day; Jacqueline and I set out to plant a tree in the arboretum.  It is a specimen fir tree, with striking silver grey needles, added as an afterthought when we collected forest trees from the nursery.  We chose an open space among the soaring wellingtonias, weeping ash and dawn redwood.  As we heeled it in firmly we envisaged it growing tall and elegant to please another generation fifty years from now.
We walked on into the Wilderness, the ten acre wood at the head of the lakes, replanted in the hospice days some twenty years ago.  Plenty of trees growing well, but many of the oaks have been ring-barked and ruined by the grey squirrel, the woodman's number one enemy.  Above us our resident buzzard roded up and down with his distinctive cry.  Buzzards are blamed for a reduction in our song birds, and as such we resent their presence, but today we had another thought.  Somewhere recently we've read that they also take young squirrels, and this year we've yet to see any hanging off the bird feeders.  Maybe our giant predator has redeemed himself.
Walking back to retrieve our tools we paused to study the plastic label which came with the tree.  The small print reads, 'Height 6 to 7 feet'.  So much for our soaring giant;  We need another trip to the nursery.