Welcome to Staunton Harold Hall
The Staunton Harold Estate is a traditional country estate of some 2000 acres, centred on the great Georgian mansion, Staunton Harold Hall.  Family run, and 'hands on' in its management style, the estate has embraced modern uses for its diverse assets.
The Hall itself became a family home again in 2003, after fifty years of institutional use.  With some eighty three rooms, the main building easily accommodates three generations of our family.  Son-in-law, Tony Cantrill, has taken over the West Wing, now converted into high quality managed offices and conference facilities, known as LION COURT.
The suite of fine 'State Rooms' on the east and north front lend themselves to large functions, and here we host weddings and other events up to twelve times a year.
Our family's involvement with Staunton Harold began in 1955, when we purchased the three farms at the core of the estate.  These included the large Georgian stable block, which stood abandoned and ruinous.  We put it in good repair, and in 1974 began its conversion to craft workshops and studios.  Now known as the FERRERS CENTRE FOR ARTS AND CRAFTS this is a true 'making' centre with some eighteen businesses covering a range of disciplines.
Most of our land is let to local farmers, but the four hundred acres of woodland we manage ourselves with a forestry team based at our estate sawmill.  From here we sell firewood through the TEN MILE TIMBER COMPANY, and sawn material, mainly oak and larch, cut to customers' requirements.
Our family business centres around maintaining and renting out property and a recent addition to this, built from our own timber, is DEERPARK LODGE.  This is a holiday cottage, sleeping six, set among trees on a hill above the Hall.
The hamlet of Staunton Harold includes a garden centre, in separate ownership, and a fine 17th century church, now in the care of the National Trust.  We have become something of a walking and cycling centre, with adequate car parks and restaurants and seven routes radiating from the settlement.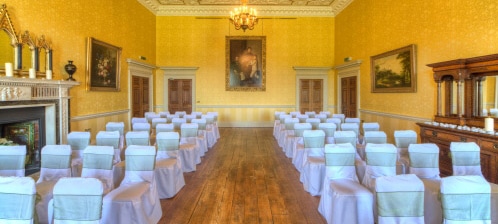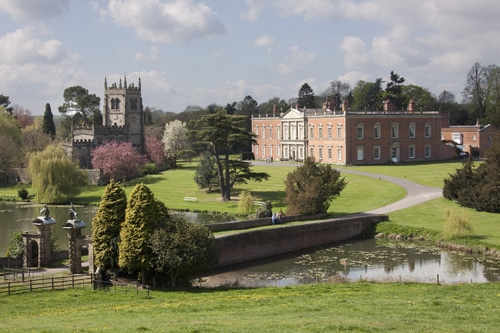 Beating the Bounds, and the 'Bounders'
Bureaucracy is the bane of our age.  Ringing a public utility company calls for stamina and determination, a long trawl though departments and reference numbers.  Council offices and government departures likewise.  So when these elements are on your side and the obstacles are your own friends and neighbours it comes a s something of a shock.
The labyrinth of footpaths which criss-cross the fields on the Breedon side our estate date back to the time when a village existed in this area.  A scheme to make them more appropriate for modern usage has been rumbling on for more than twenty years; it has outlived two generations of footpath officers.  Finally we have arrived at a plan which creates a sensible network, using headlands rather then striking across the middle of arable fields.  It has the approval of the County Council, The Ramblers Association and the Leicestershire Footpath Group.  We are all set to go.
But then a Derbyshire group puts a spoke in the wheel.  They register no fewer than eleven objections.  A meeting I convened has failed to move them.  Now we are faced with a public inquiry, a considerable expense to the taxpayer.
Since 1994 we have created or facilitated some thirteen miles of footpaths and bridle-paths through our estate.  Walkers, cyclists and horse riders are very appreciative of our efforts.  These paths are created and maintained at  some cost to ourselves and our farm tenants. I must try to keep in mind those messages of thanks we receive and not be sure by the one sidedness of our Derbyshire neighbours.