Welcome to Staunton Harold Hall
The Staunton Harold Estate is a traditional country estate of some 2000 acres, centred on the great Georgian mansion, Staunton Harold Hall.  Family run, and 'hands on' in its management style, the estate has embraced modern uses for its diverse assets.
The Hall itself became a family home again in 2003, after fifty years of institutional use.  With some eighty three rooms, the main building easily accommodates three generations of our family.  Son-in-law, Tony Cantrill, has taken over the West Wing, now converted into high quality managed offices and conference facilities, known as LION COURT.
The suite of fine 'State Rooms' on the east and north front lend themselves to large functions, and here we host weddings and other events up to twelve times a year.
Our family's involvement with Staunton Harold began in 1955, when we purchased the three farms at the core of the estate.  These included the large Georgian stable block, which stood abandoned and ruinous.  We put it in good repair, and in 1974 began its conversion to craft workshops and studios.  Now known as the FERRERS CENTRE FOR ARTS AND CRAFTS this is a true 'making' centre with some eighteen businesses covering a range of disciplines.
Most of our land is let to local farmers, but the four hundred acres of woodland we manage ourselves with a forestry team based at our estate sawmill.  From here we sell firewood through the TEN MILE TIMBER COMPANY, and sawn material, mainly oak and larch, cut to customers' requirements.
Our family business centres around maintaining and renting out property and a recent addition to this, built from our own timber, is DEERPARK LODGE.  This is a holiday cottage, sleeping six, set among trees on a hill above the Hall.
The hamlet of Staunton Harold includes a garden centre, in separate ownership, and a fine 17th century church, now in the care of the National Trust.  We have become something of a walking and cycling centre, with adequate car parks and restaurants and seven routes radiating from the settlement.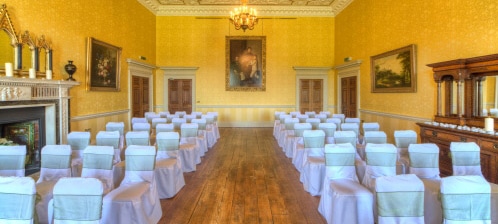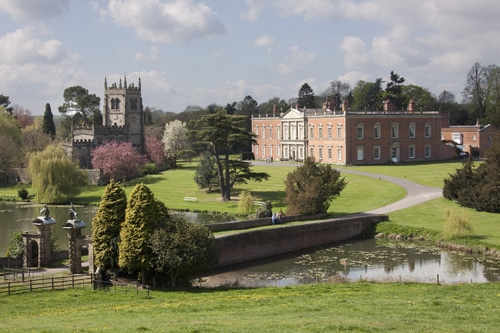 Hedging our Woods
If you have driven in from Ashby Lodge, or walked round the Wilderness Road, you can't help but have noticed the hedge, partly laid, partly new planted.  The impact is greater than we could have imagined.
This hedge would once have served the purpose in keeping stock out of the Wilderness, which was a pleasure wood with wide rides and circular walks.  Abandoned more than sixty years ago, when the field was turned over to arable crops, the remaining thorn bushes had grown into trees, some eight inches in diameter.  Jacqueline had been keen to re-establish a boundary there, but I felt the hedge had passed beyond redemption  Recently we became acquainted with a competent hedge layer, Rhys Hughes, and showed him our hedge with little expectation of help.  To our surprise he thought some could be laid, and over the Christmas period, when the road was quiet, he and his colleague laid half the length we'd looked at, and felled the thorn trees on the rest.  Since then we have dug a trench, added some compost, and planted 350 quickthorn to complete the boundary.  We also added some holly to vary the mix.
In my experience a new hedge needs nutrients at the roots, and light above.  To this end we've felled two trees and taken off some overhanging branches.  When the leaves are on  I'll check if we need to do more.  The whole project has cost nearly two thousand pounds; you could say it's a 'vanity' project, but it gives me, and I hope others, enormous pleasure as I cycle past it on my morning ride.  Next year the plan is to go round the corner, to the hedge on the parkland side.  This still serves as a boundary for stock, but only by virtue of a strand of barbed wire stretched across the gaps.