The Enchanted Musical Garden
Dazzling soprano Judit Felszeghy (a pupil of Emma Kirkby) unveils the magical musical world of Handel's time. She sings arias the composer set for the sorceress Alcina (whose incantations turned people into trees and animals!) The Fiori Musicali Chamber Ensemble and Judit Felszeghy perform this bucolic programme in the opulent setting of Staunton Harold Hall on Sunday 8 May at 7.30pm BOOK HERE Tickets for this concert are £20, available from Ashby Tourist Information Centre on 01530 411767, online at fiori-musicali.com, or call the box office 0333 666 3366.  Concessions available. Concert begins at 7.30pm.
Welcome to Staunton Harold Hall
The Staunton Harold Estate is a traditional country estate of some 2000 acres, centred on the great Georgian mansion, Staunton Harold Hall.  Family run, and 'hands on' in its management style, the estate has embraced modern uses for its diverse assets. The Hall itself became a family home again in 2003, after fifty years of institutional use.  With some eighty three rooms, the main building easily accommodates three generations of our family.  Son-in-law, Tony Cantrill, has taken over the West Wing, now converted into high quality managed offices and conference facilities, known as LION COURT. The suite of fine 'State Rooms' on the east and north front lend themselves to large functions, and here we host weddings and other events up to twelve times a year. Our family's involvement with Staunton Harold began in 1955, when we purchased the three farms at the core of the estate.  These included the large Georgian stable block, which stood abandoned and ruinous.  We put it in good repair, and in 1974 began its conversion to craft workshops and studios.  Now known as the FERRERS CENTRE FOR ARTS AND CRAFTS this is a true 'making' centre with some eighteen businesses covering a range of disciplines. Most of our land is let to local farmers, but the four hundred acres of woodland we manage ourselves with a forestry team based at our estate sawmill.  From here we sell firewood through the TEN MILE TIMBER COMPANY, and sawn material, mainly oak and larch, cut to customers' requirements. Our family business centres around maintaining and renting out property and a recent addition to this, built from our own timber, is DEERPARK LODGE.  This is a holiday cottage, sleeping six, set among trees on a hill above the Hall. The hamlet of Staunton Harold includes a garden centre, in separate ownership, and a fine 17th century church, now in the care of the National Trust.  We have become something of a walking and cycling centre, with adequate car parks and restaurants and seven routes radiating from the settlement.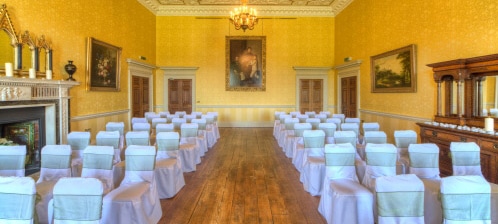 Belief in the European Union is a perfectly valid position. It is valid for a German with memories of the last war, or a Bosnian with experience of more recent wars and massacres. It is valid for the people of Eastern Europe, offering them stability and the chance of a better life. For hundreds of millions of people it has much to offer.
But not, in my view for Britain. We were the odd man out from the start, tricked into joining by Harold Wilson and talk of a 'common market'. We failed to read the small print – 'ever closer union' – but forty years on we know it all too well. We now have the chance to get back on the right track, though the powers that be, for reasons I cannot fathom, are trying to trick us again.
They are distorting some facts and omitting others. They talk of our influence into the EU. What influence? We have put down more than seventy motions in the past few years and not one has been adopted. They speak of our future in a 'reformed' EU. What reform? I hear no talk of reform from Brussels. Surely they don't mean the paltry concessions that David Cameron came home with on his last attempt?
We are told our trade will suffer, businesses will relocate to Europe, and jobs will be lost. Yes, some of this will happen, it is a concomitant of major change, but I believe we will emerge stronger as a free nation. We are the world's fifth largest economy, we import more from Europe than we sell to them; how foolish would they be to put up tariff walls and barriers between us.
And then there are things which the 'Remainers' leave out. The tens of thousands emanating from Brussels. We don't need them, thank you – we're only too good at creating our own. We may have no influence but we are the second largest financial contributor to the EU. Maybe that's why they want us. And finally, the EU is on a journey towards a superstate, the bureaucracy will only increase, the erosion our sovereignty and of our own laws can only continue.
There are those who would have us 'rather bear the ills we have than fly to others we know not of'. PROJECT FEAR plays to our caution, PROJECT HOPE to our aspirations. That's the one for me.