Welcome to Staunton Harold Hall
The Staunton Harold Estate is a traditional country estate of some 2000 acres, centred on the great Georgian mansion, Staunton Harold Hall.  Family run, and 'hands on' in its management style, the estate has embraced modern uses for its diverse assets.
The Hall itself became a family home again in 2003, after fifty years of institutional use.  With some eighty three rooms, the main building easily accommodates three generations of our family.  Son-in-law, Tony Cantrill, has taken over the West Wing, now converted into high quality managed offices and conference facilities, known as LION COURT.
The suite of fine 'State Rooms' on the east and north front lend themselves to large functions, and here we host weddings and other events up to twelve times a year.
Our family's involvement with Staunton Harold began in 1955, when we purchased the three farms at the core of the estate.  These included the large Georgian stable block, which stood abandoned and ruinous.  We put it in good repair, and in 1974 began its conversion to craft workshops and studios.  Now known as the FERRERS CENTRE FOR ARTS AND CRAFTS this is a true 'making' centre with some eighteen businesses covering a range of disciplines.
Most of our land is let to local farmers, but the four hundred acres of woodland we manage ourselves with a forestry team based at our estate sawmill.  From here we sell firewood through the TEN MILE TIMBER COMPANY, and sawn material, mainly oak and larch, cut to customers' requirements.
Our family business centres around maintaining and renting out property and a recent addition to this, built from our own timber, is DEERPARK LODGE.  This is a holiday cottage, sleeping six, set among trees on a hill above the Hall.
The hamlet of Staunton Harold includes a garden centre, in separate ownership, and a fine 17th century church, now in the care of the National Trust.  We have become something of a walking and cycling centre, with adequate car parks and restaurants and seven routes radiating from the settlement.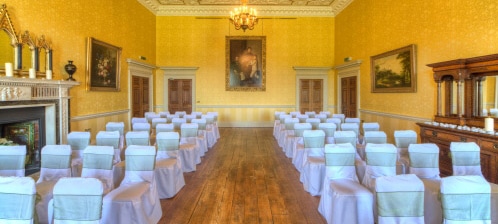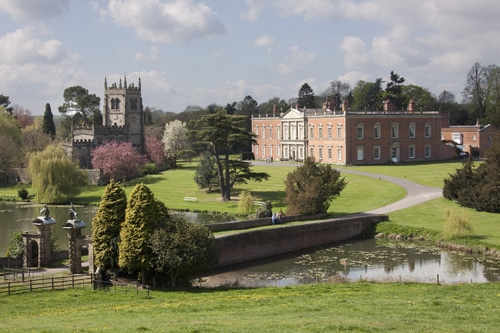 The weekend before last John and drove down to Bournemouth  on a special mission.  The mission: to meet Win Kail (nee Bugg), an amazing old lady who celebrated her 100th birthday last December.
In 1932 Win arrived at Staunton Harold Hall by laundry van (the family having gone ahead) late one evening along with the cot and pram for Robin Shirley, the future 13th Earl Ferrers.  This was her first visit to Staunton Harold, she was seventeen years old and nursery maid to Elizabeth, Penelope and Robin, children of Viscount and Viscountess Tamworth.  The family lived in London, but every year would go to stay with grandparents, Earl and Countess Ferrers, for about a month.
The house that first evening appeared huge.  There was no electricity, just candles and oil lamps, which Mr Stone, the butler, kept trimmed.  Win felt very nervous, there was a strict hierarchy among the servants and to begin with she didn't know her place.  This mattered next morning when they all had to walk in single file to the Dining Room for morning prayers, read by Earl Ferrers.  She recalled how her feed ached, and how quickly her shoe soles wore out running up and down the stone stairs between the kitchen and the nursery, trying to keep the food warm.
In 1937 Earl Ferrers died, and the young family moved into the Hall, where they remained until war broke out. Win stayed until 1938, by which time she'd been promoted to nanny, but with the children away at boarding school she was no longer needed.  Lady Ferrers offered her the job of Sewing Maid, but she declined; it was children she wanted to look after.
During her many visits, and the time she lived here, Win only saw the servants quarters, and a few other rooms.  The State Rooms and Main Staircase were out of bounds, though she does remember seeing the huge stuffed Chartley Bull in the Great hall.  Looking after the Shirley Family and living in the Hall was a happy time for her, and she remembers it with great affection.  She has remained in touch with the family.