Welcome to Staunton Harold Hall
The Staunton Harold Estate is a traditional country estate of some 2000 acres, centred on the great Georgian mansion, Staunton Harold Hall.  Family run, and 'hands on' in its management style, the estate has embraced modern uses for its diverse assets.
The Hall itself became a family home again in 2003, after fifty years of institutional use.  With some eighty three rooms, the main building easily accommodates three generations of our family.  Son-in-law, Tony Cantrill, has taken over the West Wing, now converted into high quality managed offices and conference facilities, known as LION COURT.
The suite of fine 'State Rooms' on the east and north front lend themselves to large functions, and here we host weddings and other events up to twelve times a year.
Our family's involvement with Staunton Harold began in 1955, when we purchased the three farms at the core of the estate.  These included the large Georgian stable block, which stood abandoned and ruinous.  We put it in good repair, and in 1974 began its conversion to craft workshops and studios.  Now known as the FERRERS CENTRE FOR ARTS AND CRAFTS this is a true 'making' centre with some eighteen businesses covering a range of disciplines.
Most of our land is let to local farmers, but the four hundred acres of woodland we manage ourselves with a forestry team based at our estate sawmill.  From here we sell firewood through the TEN MILE TIMBER COMPANY, and sawn material, mainly oak and larch, cut to customers' requirements.
Our family business centres around maintaining and renting out property and a recent addition to this, built from our own timber, is DEERPARK LODGE.  This is a holiday cottage, sleeping six, set among trees on a hill above the Hall.
The hamlet of Staunton Harold includes a garden centre, in separate ownership, and a fine 17th century church, now in the care of the National Trust.  We have become something of a walking and cycling centre, with adequate car parks and restaurants and seven routes radiating from the settlement.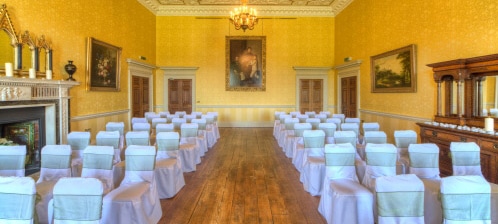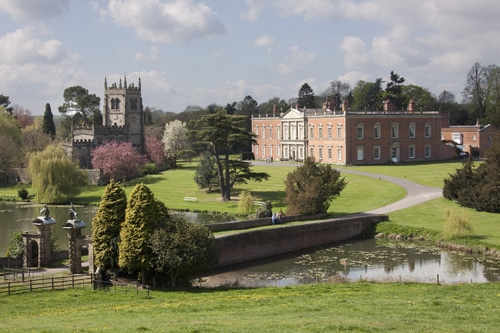 The Law of Unintended Consequences
I hope readers of this bulletin will forgive me if, for once, I forsake the affairs of Staunton and climb onto the world stage.  As I write, parliament will shortly be debating whether to send the RAF to join the half dozen countries currently bombing Syria.
I was victim of bombing myself in the last war.  Experience shows us that in the First World War and in the Blitz, shelling and bombing destroys a great deal of property but does little to weaken the resolve of the enemy, or to reduce their ability to resist.  I am no lily-livered pacifist but for me the case is not well made.
We read that IS have abandoned their external compounds and moved in with the civilian population, often in underground bunkers.  Missiles are better directed these days but this will surely present a difficult target.  More civilians killed will lead to more resentment, more houses flattened will swell the ranks of refugees tramping through the Balkans.  Deploying Western troops in other parts of the Middle East has proved an expensive mistake, but at some stage troops will have to retake the territory.  The Kurds have proved themselves most effective in this role, but they have made an enemy of their powerful neighbour, Turkey.  If the forces in the air are aimed roughly in one direction, the same cannot be said for the forces on the ground.  At the end of the day both Iraq and Syria may have to be subdivided into smaller countries.
Are our MP's vouchsafed more information than is available to the general public?  If so, they have not made very good use of it these last few years.  It seems likely that they will vote for air strikes;  we can only hope they know what they are doing.