Welcome to Staunton Harold Hall
The Staunton Harold Estate is a traditional country estate of some 2000 acres, centred on the great Georgian mansion, Staunton Harold Hall.  Family run, and 'hands on' in its management style, the estate has embraced modern uses for its diverse assets.
The Hall itself became a family home again in 2003, after fifty years of institutional use.  With some eighty three rooms, the main building easily accommodates three generations of our family.  Son-in-law, Tony Cantrill, has taken over the West Wing, now converted into high quality managed offices and conference facilities, known as LION COURT.
The suite of fine 'State Rooms' on the east and north front lend themselves to large functions, and here we host weddings and other events up to twelve times a year.
Our family's involvement with Staunton Harold began in 1955, when we purchased the three farms at the core of the estate.  These included the large Georgian stable block, which stood abandoned and ruinous.  We put it in good repair, and in 1974 began its conversion to craft workshops and studios.  Now known as the FERRERS CENTRE FOR ARTS AND CRAFTS this is a true 'making' centre with some eighteen businesses covering a range of disciplines. Most of our land is let to local farmers, but the four hundred acres of woodland we manage ourselves with a forestry team based at our estate sawmill.  From here we sell firewood through the TEN MILE TIMBER COMPANY, and sawn material, mainly oak and larch, cut to customers' requirements.
Our family business centres around maintaining and renting out property and a recent addition to this, built from our own timber, is DEERPARK LODGE.  This is a holiday cottage, sleeping six, set among trees on a hill above the Hall. The hamlet of Staunton Harold includes a garden centre, in separate ownership, and a fine 17th century church, now in the care of the National Trust.  We have become something of a walking and cycling centre, with adequate car parks and restaurants and seven routes radiating from the settlement.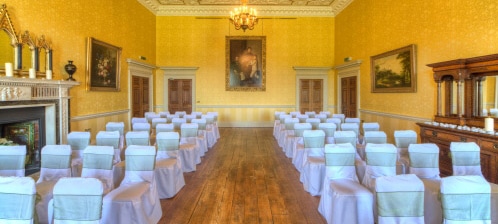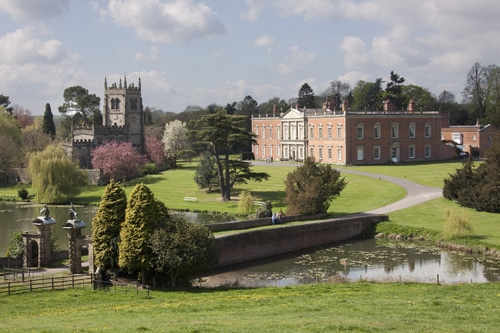 Squirrel Wars
For more than forty years the grey squirrel has been woodland owners' number one enemy. I have known foresters who have been driven to distraction over the pest.  On a tour of Forestry Commission woods in the north of England we were treated to Squirrel Pie, shot by the rangers and made from the hindquarters by their wives.  They are a serious pest.
Sometimes they kill the whole tree by stripping the bark, more often they 'ringbark' the leading shoot, causing it to break off, turning the tree into a misshapen overgrown shrub.  With us the oak is the most common casualty and the one we least want to lose.
I have trapped squirrels with moderate enthusiasm down the years.  With so many scattered woods to look after there's no prospect of making a major impact.  Even if you clear every squirrel from your own wood, they simply move across from your neighbours'.   My hope has been that, with new trees so thickly planted, enough will escape damage to fill the final wood.
Now the National Forest, with millions of trees to protect, is seeking to encourage concerted action.  Volunteers are sought to stand guard with air rifles over baited traps.  And there is the prospect of a 'multiple trap', a 'gas gun' fired device which will keep killing them till the gas runs out.  We live in hope, but maybe it'll be like the miracle bomb, promise of which kept Hitler's troops fighting in the dying days of the war.