Welcome to Staunton Harold Hall
The Staunton Harold Estate is a traditional country estate of some 2000 acres centered on the great Georgian mansion, Staunton Harold Hall. Family run and 'hands on' in its management style, the estate has embraced modern uses for its diverse assets.
The hall itself became a family home again in 2003 after fifty years of institutional use. With its eighty three rooms it easily accommodates three generations of our family. The West Wing, facing towards the Ferrers Centre has been converted to high quality managed offices with conference facilities. This is Lion Court, created by son-in-law Tony Cantrill. On the East front we have a series of grand State Rooms, which are used for weddings up to a dozen times each year
In 1974 we began converting the disused Georgian stable block into craft workshops and studios and it is now the largest such complex in England with seventeen different enterprises working in a wide range of disciplines. This is known as the Ferrers Centre for Arts and Crafts.
In another part of the estate we have the Sawmill, which serves the four hundred acres of woodland which we manage. From here we sell firewood through the Ten Mile Timber Company, and planked timber, beams and other bespoke material cut from estate oak and other woods.
The sawmill also provided most of the timber to build the Deerpark Lodge, a holiday cottage in the woods above the Hall. Managing and renting out accommodation and business premises is what we do, and the lodge, which sleeps six, is an exciting addition to our portfolio.
The hamlet of Staunton Harold is also home to Staunton Harold Nurseries, and to the fine seventeenth century family church, now owned by the National Trust. It is also a great walking centre with seven routes radiating from the core, plentiful parking and two good tearooms.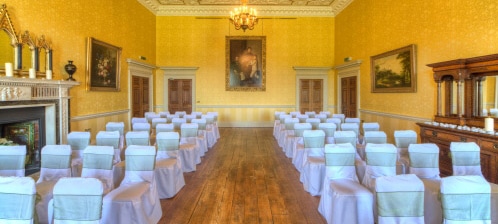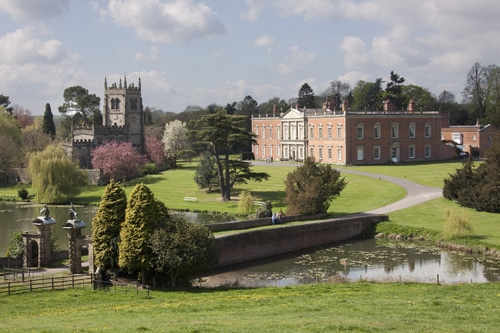 …. Lot 10: The Georgian mansion known as Staunton Harold Hall together with seventy four acres of land and the cottage at Melbourne Lodge …. any increase on £12,000? … SOLD, to Thomas Oakley (Luton) Ltd, Demolition Contractors.
 That was on 12th October 1954, sixty years ago this month, surely the nadir of Staunton's fortunes.  My father was at the auction, the sale price in his catalogue recorded in his bold scrawl.  We were all saddened at the prospect but could see no alternative; houses like Staunton were being demolished at the rate of one a week.  We were impoverished, and felt diminished as a nation; we had won the war but lost the peace.
 One woman who hadn't given up hope was the Dowager Countess Ferrers, whose home this had been and whose husband had died on the night of the sale.  She persuaded Leonard Cheshire, who was busy setting up his homes for the incurably sick, to come and look at Staunton.  He records his misgivings on arrival; no one else had come forward in the six month stay of execution ordered by the Council, the place was huge, and water was dripping in everywhere.  But the enthusiasm of the Countess and the people he met here persuaded him that it could be done. and he took it on.
 This act of faith prompted a great outpouring of help from the local community; dozens of people could be seen here doing all sorts of jobs to make the place habitable.  Cheshire records an incident when a young reporter arrived to do an article – he had a brush stuck in his hand by the Countess and was sent to sweep the dining room floor.  I too had a 'walk on' part; on leave from the army and with access to a pickup truck I was set to work pulling out scrap iron for sale.  I demolished a big cooker left by the army and other things, some of which would get me locked up today.  We won through and, as so often in a crisis, it was individuals, not committees, which made the difference.