Welcome to Staunton Harold Hall
The Staunton Harold Estate is a traditional country estate of some 2000 acres centered on the great Georgian mansion, Staunton Harold Hall. Family run and 'hands on' in its management style, the estate has embraced modern uses for its diverse assets.
The hall itself became a family home again in 2003 after fifty years of institutional use. With its eighty three rooms it easily accommodates three generations of our family. The West Wing, facing towards the Ferrers Centre has been converted to high quality managed offices with conference facilities. This is Lion Court, created by son-in-law Tony Cantrill. On the East front we have a series of grand State Rooms, which are used for weddings up to a dozen times each year
In 1974 we began converting the disused Georgian stable block into craft workshops and studios and it is now the largest such complex in England with seventeen different enterprises working in a wide range of disciplines. This is known as the Ferrers Centre for Arts and Crafts.
In another part of the estate we have the Sawmill, which serves the four hundred acres of woodland which we manage. From here we sell firewood through the Ten Mile Timber Company, and planked timber, beams and other bespoke material cut from estate oak and other woods.
The sawmill also provided most of the timber to build the Deerpark Lodge, a holiday cottage in the woods above the Hall. Managing and renting out accommodation and business premises is what we do, and the lodge, which sleeps six, is an exciting addition to our portfolio.
The hamlet of Staunton Harold is also home to Staunton Harold Nurseries, and to the fine seventeenth century family church, now owned by the National Trust. It is also a great walking centre with seven routes radiating from the core, plentiful parking and two good tearooms.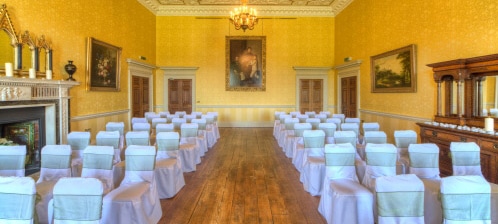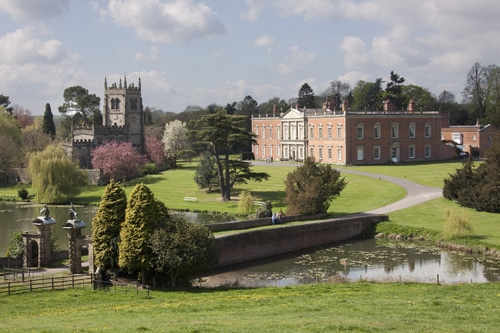 Bulletin 100 – quite a milestone.  When we bought Staunton Harold Hall eleven and a half years ago all the public lawns and paths around the house had been in public use for fifty years.  We needed to mark off part of it to give the family some private area and I put up notices to tell people what we were doing, and why.  I tried to make the notices interesting and information, but didn't expect to do more than two or three.  However, to my amazement, some people told me that they were coming here specially to read the notices so here we are, a dozen years later, and a hundred up.
The window cleaners came this week and, for the first time ever, broke a pane of glass. Not just any glass, but a shield-shaped pane in the astragal glazing over one of the doors.  It is also very thin 'picture' glass, possibly put in when the house was built two hundred and forty years ago.  Luckily we have the skills on hand to deal with this; Dave, our multi-talented house manager, has taken out the old putty and made a template, and Tim, our picture framer at the Ferrers Centre, will provide the correct glass and cut it to shape.
It gives me enormous pleasure that we can do so many of these jobs without fuss and 'in house'.  Some time ago, John, our china restorer, showed us how to make rubber moulds to cast plaster rosettes to repair the staircase ceiling.  Ironwork, joinery, signwriting, decorating and more are skills which we have close at hand, while if the job calls for an oak beam or plant it comes from our sawmill, often cut from a tree grown on the estate.  These facilities help us but, in turn, I can often point others towards the best people for the job.